DOWNTOWN LUXURY APARTMENTS – ARTISAN 420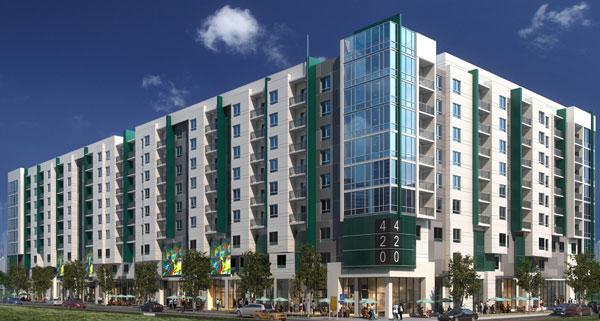 Artisan 420 is a mixed-use, nine-story building containing 299 units with 10,000 square feet of planned retail space. The development will facilitate the arts-focused esprit de corps taking shape in the South Eola area of downtown Orlando, with 10 ground-floor live/work artist studios and three visual arts gallery spaces totaling 4,000 square feet. The building will feature a three-story, above-grade parking deck and 4,000 square feet of indoor amenity space, including a residents, lounge, state-of-the-art fitness center, club/game room, business center and elevated courtyard pool.
Residents of the 10 ground-floor, live/work studios and the 289 apartments will enjoy access to high-end amenities. A heated saltwater pool, surrounded by a 10,000 SF lounge and activity deck, will be constructed on the fourth of nine levels at Artisan 420. LED shuffleboard, a life-size chessboard and competition-grade Tailgate Toss tournament courts are active amenities planned for the large outdoor recreation deck. Residents will also have access to a 20-person poolside spa, 1,800 SF fitness center and 2,000 SF indoor lounge area. Individual residences will feature quartz and granite countertops, wood flooring and stainless steel appliances. Artisan 420 includes a 448-space, three-story parking garage for off-street parking in this bustling and pedestrian-friendly downtown area. The first expected units are anticipated to deliver in October 2015.